Booster Pump Troubleshooting with Towle Whitney
There are many reasons why a booster pump may not be working properly. The best thing to do in this scenario is get in touch with a licensed professional, or give Towle Whitney a call. If this is a minor issue you can fill out the form on our troubleshooting page and someone will be in touch. If you would like to give it a go on your own, we have listed some helpful guides by Towle Whitney below. 
You can also call Towle Whitney at 800-807-9827 to get a live person, Mon- Fri 8AM- 4PM EST.
There are a few things you will need to know before troubleshooting can begin. You will need to know the manufacturer of the drive, Yaskawa or Vacon, both are clearly labeled and easy to read. Have an older model? See our Emerson guide. If you do not see your VFD listed below please call.
Listed below is one common example and a solution for troubleshooting a booster pump: 
Pump turns ON / OFF every few minutes / seconds 
Check for leaks (faucet, toilet fill valve, etc). 

As mentioned in the assembly section, it is essential to install a ball valve on the suction [City/ Well side] and discharge [Building side] of the pump. 

Close the ball valve on the discharge side of the pump and check to see if the pump turns OFF. If it does, there may be a leak in the water line, a faucet, a toilet, hose bib, etc. 

If the pump continues to run after the discharge shut off valve is closed, the water may be leaking back through the check valve [if installed on suction side of pump.]
Let the pump run and increase pressure.  

Close discharge ball valve when pressure reaches its highest point.  

Close the suction ball valve.  

Turn off circuit breaker OR unplug 115V. 

Wait for the screen to go blank.  

Open suction ball valve. 

Watch the pressure gauge closely. 

If pressure starts to drop, then check the valve is fouled and the water is leaking back through it.

Check valve debris must be flushed out by running a lot of water through the system or removed and cleaned.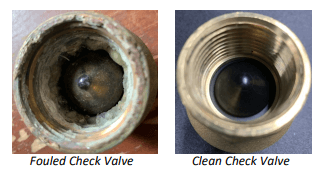 You can also call Towle Whitney at 800-807-9827 to get a live person, Mon- Fri 8AM- 4PM EST.

Another great troubleshooting resource, check out Towle Whitney's FAQ page