Vertical Booster Pumps New York
Vertical Booster Pumps New York
Towle Whitney provies diverse booster pump systems to New York and surrounding states, one being vertical booster pumps. Our vertical multi-stage booster pump systems are designed for high pressure and/or high flow applications. Most often used in high-rise buildings such as hotels, hospitals, multi-family buildings, and manufacturing facilities.
The vertical booster pump systems are equipped with centrifugal pumps regulated by a variable frequency drive that controls the pump operation to maintain constant pressure regardless of varying demand and fluctuation in incoming pressure. Both pumps operate in a synchronized manner to supply the specified flow and pressures.
The VFD drives will ALTERNATE the lead pump every 24 hours of run time. The 2nd/3rd pump(s) will remain in standby until needed. System is built on a MODULAR painted steel frame for ease of transportation and installation. The modular frame is also designed to separate one module from another to allow the system to be moved through tight spaces. Each system comes with its own properly sized expansion tank and the industries best 3-year warranty!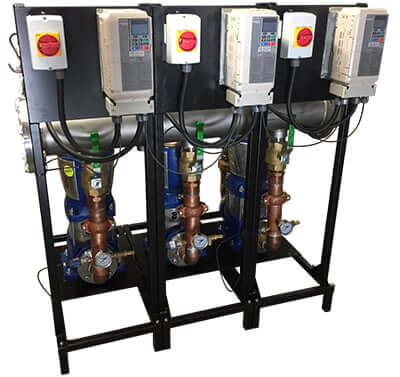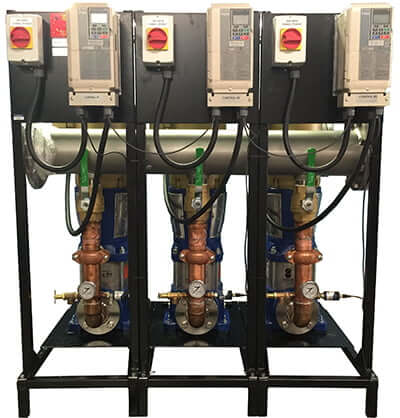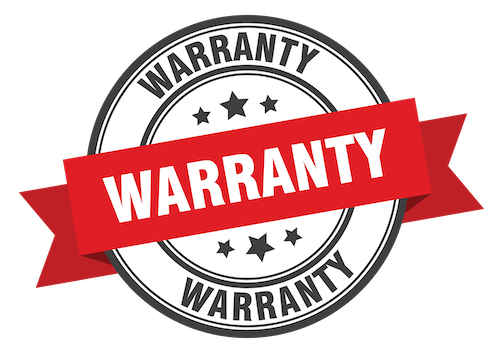 3 Year Warranty
We have confidence in our systems to provide the best warranty in the industry. Plug & Play
With our systems all you have to do for installation is plug them in & you're ready to go. Support
Before, during, and after the sale, we're here to help you and ensure efficiency. Green
These systems stop and start at 50% standard power, they are energy efficient. Quiet
Because nobody wants to hear a noisy pump. Our pumps run quietly.
We Provide Products All Across The USA
Below is a list of 15 towns we ship our products too, but we will ship and help service the entire United States!
Request A Quote For A vertical Water Booster Pump

Please complete the form on the right to request a quote. If you have any questions regarding our products or services, or if you would like to schedule a consultation to discuss your specific use-case, please feel free to contact us via phone at (800) 807-9827 or email at info@towle-whitney.com. We look forward to working with you.